These Facilities Are Available to Rent
Facility Rentals
Reserve one of our beautiful venues for your business meeting, private party, fund raiser, wedding, church retreat, or family reunion! The park provides many great photographic opportunities for your special occasion. For cancellations, please see our refund policy.

Spring House Lodge
Our 3,300-square-foot, cedar-paneled lodge is a tremendous space for your event. The lodge has central heat and air conditioning, and features a limestone fireplace and almost 2,800 square feet of wrap-around, open porch space. Other features include:
Kitchen area and with commercial refrigerator and convection oven.
Tables and chairs (provided).
Stage and dance floor.
Accessible ramp and parking.
Accessible restrooms.
Cleaning supplies and garbage bags (not included).
Rates
The high quality sound system for the lodge is available for an additional $50 and is compatible with most laptop computers and MP3 players.
Spring House Lodge rates include park admission for all guests, but do not include pool use. Regular pool-use admission fee applies.
A $125 deposit is required when making a reservation but will be deducted from the total amount due upon arrival. A refundable $200 security deposit is required. You must leave the lodge clean  orderly, and undamaged.
Club House
Window AC Unit
5-6 foot tables
42 chairs
3 – 4x4 tables
Refrigerator
T.V.
Conference table with 2 chairs
Seats approximately 35-45 people
Restroom inside
Sunday – Saturday $75 plus $100 security deposit
To reserve call 352-463-0800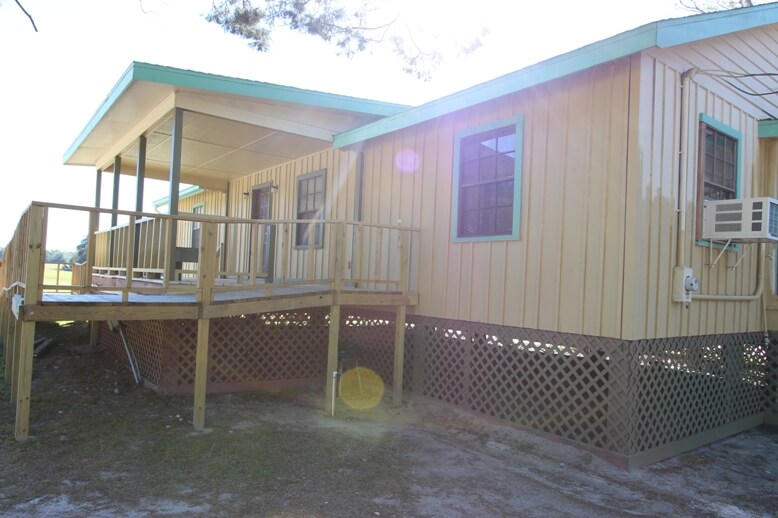 Picnic Building
Counter and Sink
Ceiling Fans and Electric
Screened-in
Seats approximately 30-35 people
1 Garbage Can
No Restrooms
Sunday – Saturday $65 plus $100 security deposit
To reserve call 352-463-0800