Area Information
Visit other great places in the vicinity.
Our Community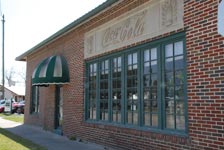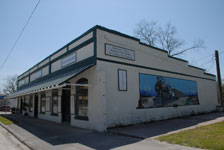 Gilchrist County
Visit the Gilchrist Chamber's website for information on tourism, shopping, and local churches; or stop by our office and pick up a Gilchrist Guide. There are dozens of great places to go in the local area when you've finished your hike or swim.
One of our favorites is the Suwannee Valley Shoppes, home to the quaint Suwannee Rose Cafe. Here you can take a quilting class and enjoy shopping for crafts and antiques. Just down the street past the old train station is Suwannee Valley Custom Framing and Stained Glass Works, with wonderful artisan crafts, lovely artwork, and stained glass workshops (409 N. Main Street, Trenton, 352.463.3841).
Parks & Recreation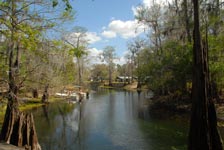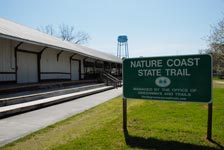 Hart Springs Park & Campground
Hart Springs is another family-oriented recreation area in Gilchrist County that features spring-fed swimming areas and camping.
Nature Coast State Trail
Nature Coast State Trail nearly brushes the southern edge of Otter Springs Campground & Park. The 31.7-mile hiking and biking path was built over old railroad tracks. Near Otter Springs, the path crosses over the Suwannee on an old train trestle, offering a spectacular view.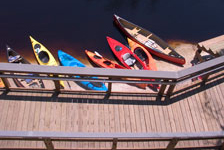 Suwannee River Wilderness Trail
Suwannee River Wilderness Trail is a 170-mile pathway of managed wilderness experiences. The paddling trail system is a joint effort of the Florida Department of Environmental Protection, Suwannee River Water Management District, and the counties and citizens in the area. Area state parks are featured in the site.
Pure Water Wilderness
Pure Water Wilderness formed to promote nature-based tourism in Gilchrist, Dixie, and Levy counties. Their site is full of information about places to go and things to do, such as diving, swimming, snorkeling, horseback riding, cycling, paddling, boating, fishing, and hunting.

Chiefland Golf and Country Club
For a quick round of golf, try the Chiefland Golf and Country Club (9650 NW 115th Street, Chiefland, 352.493.2375).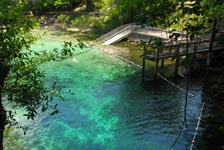 Florida's Springs
The Florida's Springs website, sponsored by the Florida Department of Environmental Protection, is full of information about Florida's hundreds of natural springs.
Florida's State Parks
The Florida State Parks website provides complete information about Florida's 160 award-winning state parks. Its One Tank Adventures search tool displays all the state parks located within a 100-radius of a selected city. Two nearby that feature springs are:
Suwannee River Water Management District
The Suwannee River Water Management District, one of five regional water management districts in the State, endeavors to protect north-central Florida's rivers, springs, groundwater, and coastal estuaries, and to provide recreational opportunities for the public to enjoy the region's abundant natural resources.
Additional Resources
J.D. Sanders RV Center – RVs, RV parts and accessories, and RV service and repair